Trusting Your Gut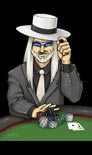 I once made what I thought was a big mistake in tournament play (I showed up—just kidding). Because I was convinced it was a mistake, I asked some fellow pros what they would have done in that spot. Over the course of several months, I asked Chris Ferguson, Freddie Deeb, Annie Duke, and dozens of other pros and they all told me that they would have done exactly what I'd done. Are you curious what the situation was yet? Here's the deal (literally):
It was in the Senior Event (that's right, everyone there was at least in their fourth year of high school) during the 2005 36th Annual World Series of Poker at the Rio Casino in Las Vegas. 825 players entered this event, but at this point in the tournament, there were only 50 players left. I had been on a rush and I had milked it for all it was worth. I had a monster stack; I was the chip leader, so I decided to change gears and only play premium hands and perhaps occasionally cheaply bully a small stack out of a pot. I figured that by doing this I could coast to the final table.
The next closest player was Paul McKinney, who I had seen play from coast to coast, but had never personally gone up against. Since this was my first time playing with him, I paid particularly close attention to his play. In the hours leading up to the hand that we will discuss, I saw him move all-in with pocket Jacks and pocket Queens before the flop. He won both those hands. In fact, by the time of our confrontation, he was second chip leader in the tournament with $40,000 in chips. The third place chip leader had about $25,000 and I had a whopping $72,000.
Here's the hand: The blinds were $500 and $1,000. The antes were $100. I was first to act and I raised to $3,500. I had a monster, pocket Kings. Everyone folded to Paul, who was in the cut-off seat. He moved all-in. The button and the blinds all folded to me and I asked for a chip count. Paul had a little over $40,000. My gut told me to fold. I reasoned that I didn't need to play such a big pot.
Only if he had Aces would I be a big dog, but did he have Aces? I recalled that he made the same move with Jacks and then again with Queens. But so what, my gut told me, it's okay to lay down the best hand. If you throw it away, you'll still have over $68,000 in chips and coast to the final table. I kept thinking, "Don't play such a big pot—you don't need to—pick a better spot against a smaller stack."
But then I started second-guessing: "If he had Aces, why would he bet so much? Wouldn't he want the action? He probably doesn't have them." (My gut told me again that I didn't need this pot, and to let him have it. It's okay to throw away the best hand from time to time.) Then I thought (are you following all these thoughts?), "If I win this pot I'll have over $112,000 in chips and even if I lose I'll still have a slightly better than average stack." So I called. He had Pocket Aces. They stood up and I lost over half my stack.
By the time we got down to 30 players, I was a short stack with only $10,000 in chips. Paul had limped from middle position and I was on the button with K Q suited. The blinds were $1,500 and $3,000 with an ante of $400. Since Paul had shown weakness with his limp, I moved all-in. This time Paul had slow-played pocket Aces and sucked me into making a move at the pot. His Aces held up and I busted out in 30th place.
I always felt that that call was a mistake; it bothered me for months, but nobody would agree with me that that had been a mistake. Chris and Annie and a bunch of other pros said that they would have called in that spot. I still felt the call was a mistake and I just couldn't let it go; I wanted someone who I respected as a player to tell me otherwise.
Finally, one night at a party for Doyle Brunson at the Bellagio, I asked T. J. Cloutier. He passed along these words of wisdom to me: "Always go with your gut. If you've got a strong feeling, go with it." Thank you, T. J.
Later that night, I asked Jen Harmon the same question and she agreed with the lay down in that spot. Thank you, Jen. These were the only two pros out of dozens that agreed with me. I had made a mistake and should have gone with my gut feeling and laid that hand down. It may sound like I became a little obsessive about finding someone who agreed with me, but thanks to T. J. and Jen, I feel more confident in trusting my inner poker player. You should try it too.
So what have we learned here?
1. Always trust your gut.
2. Don't get married to a big hand.
3. Listen to your inner poker player.
4. Always brush and floss twice daily.
Be sure and read my next article, "Luck and a Positive Attitude."

So until next time, remember the number one thing in poker is to have fun and enjoy it. It's not whether you win or lose that counts; it's whether I win or lose.

C'ya
Dr. Hope, J.A.P.D
(Just A Pretend Doctor)
To comment on this article click here.
This article was taken from a book designed to keep poker players in shape while they are on the road. This easy 10 minute hotel room workout has helped some world-class poker players stay in shape. Dr. Hope, for one. Anny Duke told Dr. Hope that Eric Seidel uses this workout whenever he is on the road. T.J. Cloutier told Dr. Hope, "There's some good stuff in that book."

The name of the book is: Pumping Iron: A Traveling Poker Player's 10 Minute Hotel Room Workout. Here are some pictures from it: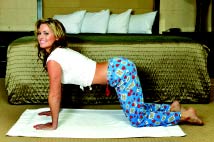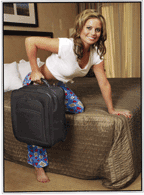 Here's what people are saying about this book:

Absolutely the best book I've ever read in my whole life! It's hilarious and well written.-- Dr. Hope s mom

If you travel you need this book! You should buy at least one copy - no wait- at least three copies, of this fantastic innovative book! --Dr. Hope's publisher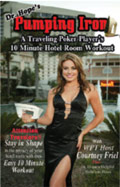 Want  it?  CLICK HERE Help support this site by purchasing your copy of

Dr. Hope's Pumping Iron: A Traveling Poker Player's 10 Minute Hotel Room Workouttoday!